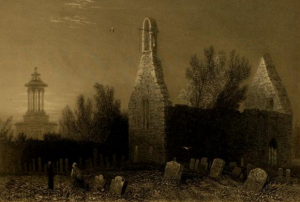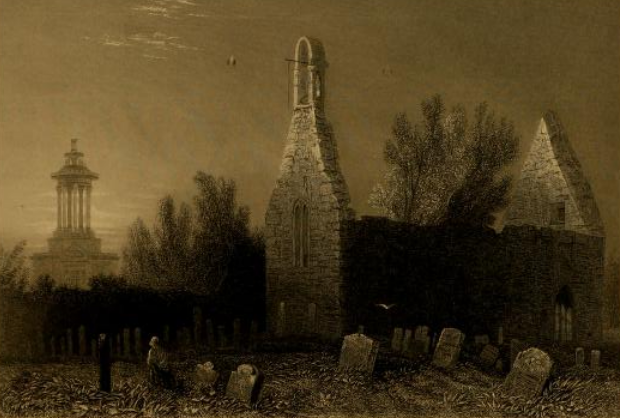 In 1846 Douglass delivered two speeches in Ayr at the Relief Church, Cathcart Street on the evenings of Monday 23 and Tuesday 24 March. On arrival, he and his companion James Buffum were escorted by the minister Rev. Robert Renwick to the birthplace of Robert Burns, three miles out of town in Alloway. On the way they called in at the home of Isabella Burns Begg, Burns' youngest sister, and her two children.
He provided a vivid account of the visit in a letter to his friend Abigail Mott (1766-1851), a Quaker in Albany, New York, to whom he had sent his daughter Rosetta, then aged six, to be educated by her and sister Lydia. The relevant portion of the letter was published in the Albany Evening Journal (and subsequently reprinted elsewhere) and is reproduced below.  The newspaper misdated the letter, which – the context makes clear – was written on 23 or 24 March.

Douglass knew the poems of Robert Burns well. The first book he purchased after his escape from slavery was an edition of James Currie's Works of Robert Burns, which he later gifted to his eldest son Lewis.1
Currie's influence is evident in Douglass' assessment of Burns' life and work, not least because of the way he recognised that Burns' readers were not exclusively Scottish, but were to be found in many 'other countries where the English language is spoken or understood.'2 Indeed, one of his nieces told Douglas that their uncle 'was more highly esteemed in America than in Scotland.' But because these readers lacked a familiarity with both his 'dialect' and the society in which he lived, they might struggle to fully appreciate his writings. And so Currie felt obliged to preface his biographical sketch with 'Some Observations on the Character and Condition of the Scottish Peasantry.'
And Douglass effectively repeats the strategy for his correspondent who, he admitted, was 'no admirer of Burns', by sharing with her some of his 'present knowledge of the country to which be belonged – the times in which he lived, and the broad Scotch tongue in which he wrote.'

But as he does so, the Scottishness of this context fades into the background. For his description of Burns' situation, struggling against a 'bigoted and besotted clergy' and 'proud, ambitious, and contemptuous aristocracy' who treated him as 'little better than a brute', begins to read more like autobiography. The language Douglass employs here is more like the language he used elsewhere to condemn the class of slaveholders in the United States who often compared themselves to feudal nobility, and the Southern churchmen who defended them.
The antithetical pairing of 'man' and 'brute' recalls some of the more memorable rhetorical set pieces in Douglass' writings and speeches. And he comes close to quoting from his own apostrophe to the sailing ships in the Chesapeake Bay in his Narrative, where he wrote: 'You are loosed from your moorings, and are free; I am fast in my chains, and am a slave!'3 Anyone recognising the phrase (from what William Lloyd Garrison's preface highlights as the most 'thrilling' episode in the book4) might be forgiven for thinking that by the end this passage, Douglass has imaginatively fused his own escape from slavery with Burns' exceptional rise from rural obscurity. Somehow Ayrshire has turned into Maryland's Eastern Shore.
---
A Fugitive Slave Visiting the Birthplace of Robert Burns
The following is an extract from a Letter of FREDERICK DOUGLASS, to a Friend, dated April 23, 1846. The writer, be it remembered, is a 'Runaway Slave,' who, during his eight years of stolen Freedom, in defiance of all the disadvantages under which his class labor, has qualified himself to think and write thus:–
'I am now in the town of Ayr. It is famous for being the birth-place of Robert Burns, the poet, by whose brilliant genius every stream, hill, glen and valley in the neighborhood have been made classic. I have felt more intense in visiting this place than any other in Scotland, for, as you are aware, (painfully perhaps) I am an enthusiastic admirer of Robt. Burns.
Immediately on our arrival, Friend Buffum and myself were joined by the Rev. Mr. Renwick, the Minister in whose meeting house we are to lecture during our stay, and proceeded forthwith to see Burns' Monument. It is about three miles from town, and situated on the south bank of the river "Doon," and within hearing of its gentle steps as it winds its way over its pebbled path to the Ocean.
The place of the Monument is well chosen, being in full view of all the places mentioned and referred to in the Poet's famous poem called "Tam O'Shanter," as well as several others of his most popular poems. From the Monument (which I have not time to describe,) may be seen the Cottage where Burns was born – the old and new bridge across the Doon – "Kirk Alloway," called by Burns the "Haunted Kirk." The banks of "Doon" rising majestically from the sea toward the sky, and the Clyde stretching off to the highlands of Arran, whose dim out-line is scarcely discernible through the fog by which it is almost constantly overhung, makes the spot admirably and beautifully adapted to the monument of Scotland's noble bard.
In the Monument there is a finely executed marble bust of Burns – the finest thing of the kind I ever saw. I never before, looking upon it, realized the power of man to make the marble speak. The expression is so fine, and the face is so lit up, as to cause one to forget the form in gazing upon the spirit.
In another room, there are two statues carved out of free-stone – the one of Souter Johnny and the other of Tam O'Shanter, two characters named in his most famous poem. These were also finely executed and shared my attention, but I was drawn to Burns. In a glass case near his bust there was a bible, given by Burns to his "sweet Highland Mary" – there is also in the same case a lock of her hair neatly fastened to a card.
As I gazed on the hair of her he so dearly loved, and who by death was snatched from his bosom, and up to his bust glowing with expression, I received a vivid impression, and shared with him the deep melancholy pourtrayed in the following lines –
Ye banks and braes of bonnie Doon,
How can ye bloom sae fresh and fair;
How can ye chant, ye little birds,
And I sea weary, fu' o' care!
Thou'll break my heart, thou warbling bird,
That wantons thro' the flowering thorn:
Thou minds me o' departed joys,
Departed never to return.

Oft hae I rov'd by a bonnie Doon
To see the rose and woodbine twine.
And ilka bird sang o' its luve,
And fondly sae did I o' mine.
Wi' lightsome heart I pu'd a rose,
Fu' sweet upon its thorny tree,
And my fause luver stole my rose,
But ah! She left the thorn wi' me.5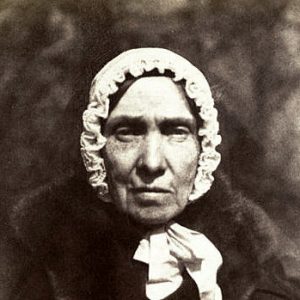 On our way to the Monument we enjoyed a pleasure and a privilege I shall never forget. It was that of seeing and conversing with Mrs. Beggs, an own sister of Robert Burns, and also seeing and talking with the poet's two nieces, daughters of Mrs Beggs. They live by the road side in a small thatched cottage, humble but comfortable. When Mr. Renwick made them acquainted with the fact that we were from America they received us warmly. One of the nieces said her uncle was more highly esteemed in America than in Scotland. –
Mrs Beggs is the youngest sister of Robert Burns, and though  now approaching 80, she does not look to be more than sixty. She enjoys good health, is a spirited looking woman, and bids fair to live yet many days. The two daughters are truly fine looking women. Coal black hair, full, high foreheads, and yet black eyes, sparkling with the poetic fire which illumined the breast of their brilliant uncle.
Their deportment was warm and free, yet dignified and lady-like. They did every thing to make our call agreeable, and they were not ignorant as to the means of putting us fully at ease. Two letters in their uncle's own hand writing was early put into our hands. An original portrait, said to be excellent, was discoursed upon. I thought it much like those we usually see in his works.
We sat fifteen or twenty minutes. It might have been longer, as happy moments pass rapidly. Too leave – bade farewell. I saw in them so much of what I love in every body else. I felt as if leaving old and dear friends. I have ever esteemed Robert Burns a true soul but never could I have had the high opinion of the man or his genius, which I now entertain, without my present knowledge of the country to which he belonged – the times in which he lived, and the broad Scotch tongue in which he wrote.
Burns lived in the midst of a bigoted and besotted clergy – a pious but corrupt generation – a proud, ambitious, and contemptuous aristocracy, who, esteemed a little more than a man, and looked upon the ploughman, such as was the noble Burns, as being little better than a brute. He became disgusted with the pious frauds, indignant at the bigotry, filled with contempt for the hollow pretensions set up by the shallow-brained aristocracy.
He broke loose from the moorings which society had thrown around him. Spurning all restraint, he sought a path for his feet, and, like all bold pioneers, he made crooked paths. We may lament it, we may weep over it, but in the language of another, we shall lament and weep with him. The elements of character which urged him on are in us all, and influencing our conduct every day of our lives. We may pity him but we can't despise him. WE may condemn his faults, but only as we condemn our own. His very weakness was an index of his strength. Full of faults of a grievous nature, yet far more faultless than many who have come down to us on the page of history as saints. He was a brilliant genius and like all of his class, did much good and much evil. Let us take the good and leave the evil – let us pursue his wisdom but shun his folly; and as death as separated his noble spirit from the corrupt and corruptible dust with which it was encumbered, so let us separate his good from his evil deeds – thus may we make him a blessing rather than a curse to the world.
Read his "Tam O'Shanter," "Cottar's Saturday Night," "Man was Made to Mourn," "To my Mary in heaven." Indeed, dear A, read his poems, and, as I know you are no admirer of Burns, read it to gratify your friend Frederick. So much for Burns.
Albany Evening Journal, 13 June 1846
---
Notes