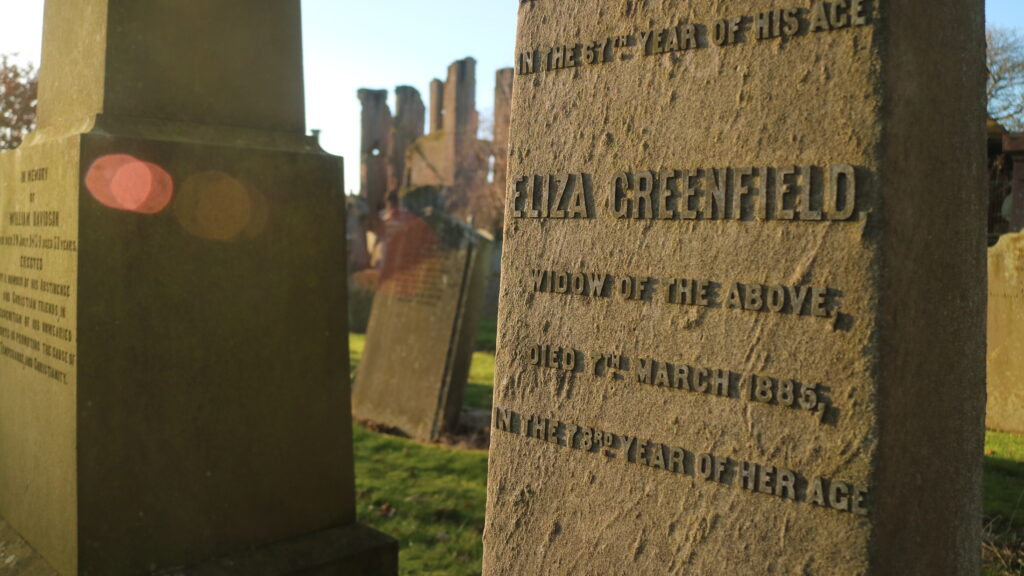 I
The American radical campaigner, Henry Clarke Wright spent much of 1844-45 touring Scotland, making incendiary speeches condemning the Free Church for accepting donations from pro-slavery supporters in the United States. In one of his regular updates to William Lloyd Garrison, the editor of the Liberator, the abolitionist paper in Boston, he wrote from Arbroath on 11 February 1846:
When I was in this town in October of 1845, Rev. Mr. Sorley, in whose church I lectured, was away, getting a wife. Whom do you think he married? A COLORED WOMAN, the daughter of a slave, quite dark, but highly educated and accomplished, and of exalted character. She is the cherished object of respect and affection among all the people of this town. No woman in town is more beloved and respected. What will the negro-hating priests and politicians of America say to this? Here is a white husband and a black wife, and that husband a minister – greatly honoured by his people, and his black wife adds to his respectability.[1]
The occasion of Wright's return to Arbroath was to arrange speaking engagements for himself and Frederick Douglass, then busy delighting audiences in Dundee.  Wright had hoped to book Sorley's church again, but from the reports in the Arbroath Guide and Northern Warder, it appears that he failed to find a church willing to accommodate them, and they had to settle instead for the smaller Trades' Hall on the High Street for their first meeting on 10 February.  They were then offered the Abbey Church (which stood across from Sorley's and is still there today) and the following two evenings they spoke there.
II
Sorley's wife, whom Wright does not name, was Eliza Greenfield. She was born in 1812 in Kingston, Jamaica and according to the baptismal records [free registration required] she was the daughter of a 'free mulatto', Elizabeth Strachan.  Her father was James Greenfield, not otherwise identified there, but he does have an entry in the Legacies of British Slavery database, indicating that he was a partner in a firm that made him 'joint-owner of … enslaved people contracted to the military and government in Jamaica.' He had an interest in several estates, and was 'shown as an absentee in 1826.'
That entry does not mention Eliza, but it does record that Greenfield had several other children by Elizabeth Strachan (whose surname suggests that her father was a Scottish colonist too). There was Agnes (born 1814), James (born 1818) and Mary (born 1820).  There were two other daughters: Margaret, 'a free mulatto child' (born 1817) whose mother is not identified, and Jane Anna (born around 1809), whose mother was Thomasina Freeman, a 'free quadroon',   Greenfield returned to his home town Edinburgh some time in the 1820s, with several of his Jamaican children.
He lived at 9 East Claremont Street, a house he shared, according to the 1841 census, with his daughter Agnes, his niece Margaret Home Montgomery and her son Hume, whose father may have been Greenfield (at least he refers to him as his son in his will and Hume's register of marriage identifies them both as parents). Agnes' sister Margaret, had already left home and married Hector Gavin, a physician, in Edinburgh in 1837.  Four years later they were living in Bethnal Green with another sister, Mary who in 1843 would marry William Sage, a chemist.  Eliza had also moved on, and is listed in the same census residing at Millhead in Arbroath, a woman of independent means, marked with an 'F' for 'foreign-born'.
Here already we have the beginnings of the story of one family of what Daniel Livesay called, 'Children of Uncertain Fortune', the title he gave to his study of the migration of 'mixed-race' Jamaicans to and from Britain in the 'long eighteenth century'.[2]  Like many of these children, three of the sisters ended up in London – their brother James too it seems – but Eliza remained in Scotland.
III
How many black people were living in Scotland at this time?  It is very hard to say.  Most attempts at a headcount focus on the decades around 1800 and draw on data for London and extrapolate out for 'the whole country' (which may or may not include Scotland).  The two most reliable studies estimate around 10,000, which suggests that, even on the most generous apportionment (ignoring the unusually high density of black people in London), the number north of the border was unlikely to be more than two thousand.[3]
Certainly, we know the names of only a very small number of them.  Livesay does not mention the Greenfields, but he does discuss the Jamaican offspring of John Tailyour (surnamed Taylor), whose passage he arranged to Montrose, where he purchased a grand house at Kirktonhill in 1792.  The boys were sent to boarding school in Yorkshire, but their sister Catherine seems to have stayed in the area and lived with her aunt.[4] He also mentions a John McIntyre, who was a pupil at Dollar Academy in the 1820s and went on to practice medicine in Doune.[5] From Jamaica too were Peg Williamson, who worked as a midwife for most of her life in Banffshire, and Nancy Graham, who settled in Cromarty, and acquired substantial wealth including a plantation in Surinam.[6]
The three children of William Macpherson, an overseer in Berbice, returned with him to Scotland in the 1810s, Eliza and Matilda attending school in Blairgowrie, while William was enrolled in a boarding school near Perth.[7]  Also from Berbice was John Fraser, apprenticed to a surgeon in Cromarty in 1832.[8]  David Alston has identified several individuals born in the Caribbean in the rolls of educational institutions: Marischal College, Aberdeen (George, John and William Munro), Inverness Academy (John Noble, Helen Inglis), Elgin Academy (James Botar), Tain Academy (Marion Iver, Eve and George Oudkerk), and Fortrose Academy (Eliza and William Junor) while Thomas Cuming graduated as a doctor from Edinburgh University in 1824.[9]   William Fergusson and Jean-Baptiste Philippe also graduated there in the 1810s before going on to careers elsewhere.[10] 
William Davidson may have picked up some schooling in Edinburgh and Aberdeen in a peripatetic life that ended with his execution in London in 1820 for his part in the Cato Street Conspiracy.[11]  Ian Duffield has identified several black Scots from Edinburgh and Leith who were transported to New South Wales in the 1820s and 30s for petty crimes, including Nameroa (aka Nimrod, 'Black Robbin', Robertson) in the service of a Major-General Dalrymple,  Christian Sanderson, a laundry maid, and William Green, a private in the 70th Regiment of foot.[12]
Several are better known. Malvina Wells, born enslaved in Carriacou in 1804, lived and worked as a maid in Edinburgh for much of her life.  John Edmonstone, from Guyana, taught taxidermy at Edinburgh University in the 1820s, where one of his students was the young Charles Darwin.[13]  And Peter Burnet, an African American who made his home in Paisley was a well kent figure about town town and the subject of a short biography.[14]
IV
Eliza Greenfield is worthy of a place among this select company.  What do we know of her life in Arbroath?  The records tell us that she married the Rev. Alexander Sorley on 21 October 1845. He was then the minister of the United Secession Church on Fore (now West) Abbey Street, long since demolished.  The ceremony itself took place in Edinburgh, her residence, according to the register, the same as her father who is described as 'late merchant of Jamaica.'  As for the later references in the historical record, she has but a shadowy presence.    Sorley was a popular preacher, known especially for his sermon to the sailors, delivered every Spring before the sailing of the Baltic fleet.[15] Following the merger of the United Secession and Relief Churches to become the United Presbyterian Church in 1847, Sorley took his congregation to a new building in 1851, known as the Erskine Church in Horner's Wynd (now Commerce Street) with some 800 sittings.[16]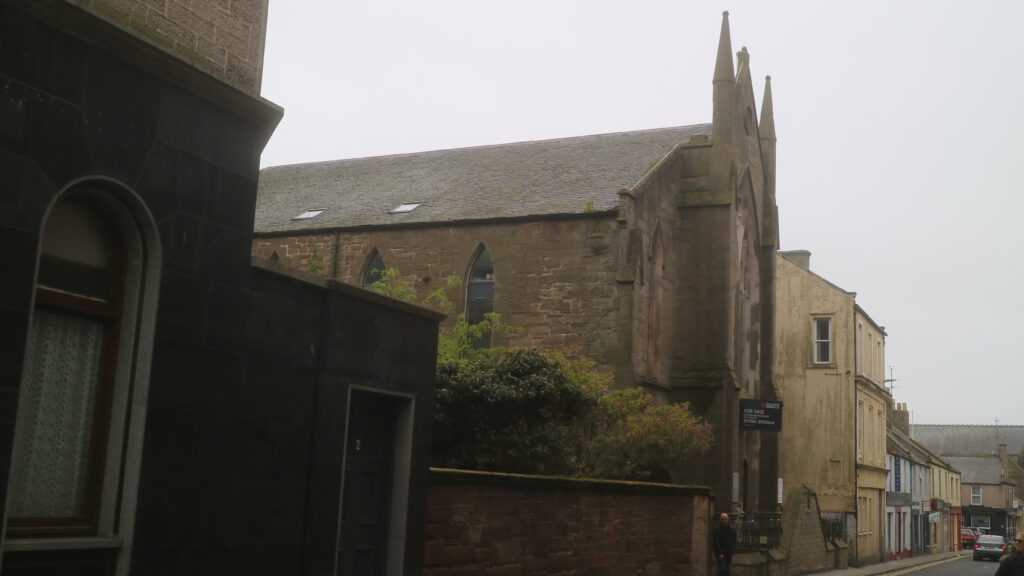 In the 1861 Census the couple are recorded as living in a grand house, Belmont, on Millgate Loan, what was then the edge of town. Valuation Rolls for 1865 indicate the occupations of their neighbours: manufacturer, surgeon, solicitor, flesher, grocer,  and then – on the less prosperous Millgate – china merchant, draper, printer, flesher,  jeweller, mill foreman, weaver, millworker, mechanic, labourer – in the mainly terraced houses on the way into the town centre.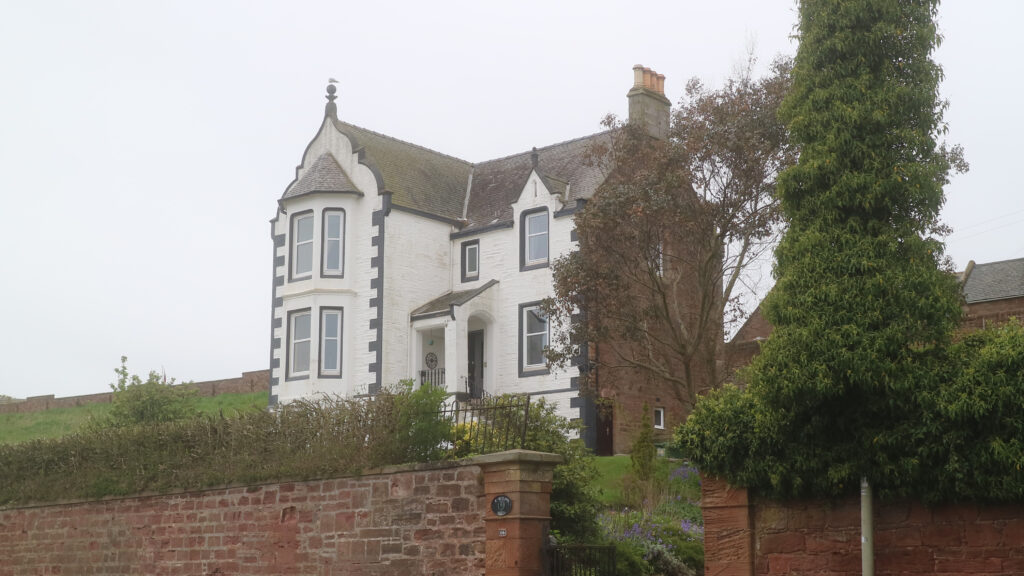 Eliza's father died in 1857. Greenfield left everything to his son Hume, excepting an annuity of £150 to his niece Margaret. Had he predeceased his father, the estate would have been divided equally between Margaret and the four of the five Jamaican children then living in Britain: Eliza, Agnes, Mary and James (the omission of his daughter Margaret is puzzling).  But it is in the preferences expressed in Eliza's own will, made a year before her death in 1885, that we might glimpse something of her life in Arbroath and who meant most to her.
In the 1881 Census Eliza is listed as widow, head of household, aged 64, born Jamaica, living with two servants, Jemima Grant and Anne Esplin.  The Register of Eliza's death (7 March, 1885) has her address as 'Belmont, Millgate Loan, Arbroath' and she is described as the 'Widow of Alexander Sorley, Minister of Erskine U.P. Church. (Illegitimate).'  Her father: 'James Greenfield, Merchant, Kingston Jamaica (deceased)'. Her mother: 'not known.' Her personal estate was valued (after debts) at £5673 16s 11d.  She is buried with her husband and his first wife in the grounds of Arbroath Abbey.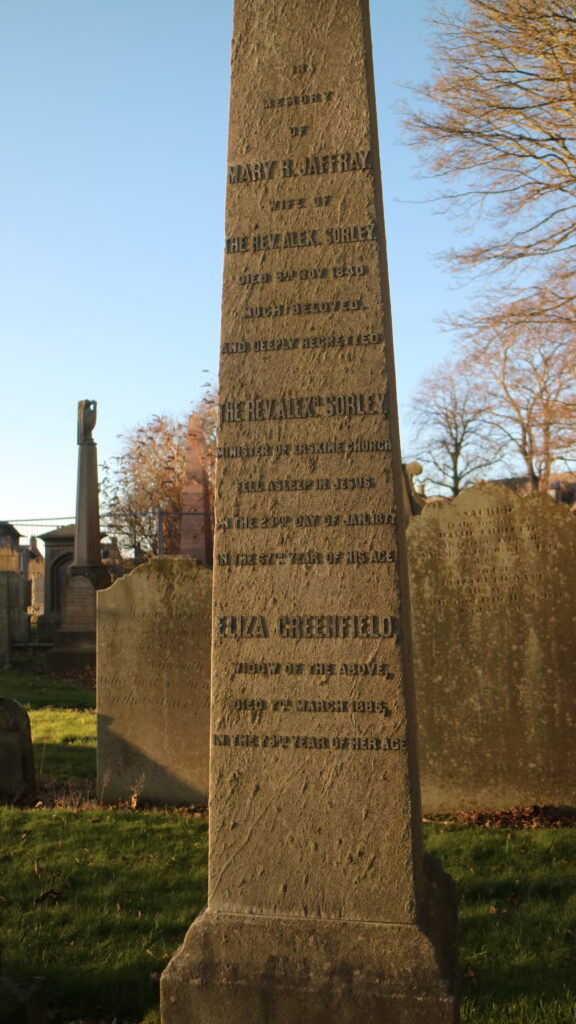 Here is the important part of the will, with the beneficiaries highlighted.
I Eliza Greenfield Sorley, relict of the late Revd Alexander Sorley of Erskine UP Church Arbroath do hereby make my Will on this Twenty first day of February 1884 bequeathing to my step daughter Mrs Jane Ann Sorley Bartlett whom failing her to her children my House Belmont, Arbroath with Furniture Silver Linens and all contained in the house excepting all the China and Ornaments in the Drawing room to my dear friend Mrs Marion Logan or McClure residing in Greenock. My step daughter to be my sole Executrix. All the money I possess in whatever way laid out to my said step daughter and failing her to her children. My step daughter shall pay out of my Estate to the following: To my sister Mrs Agnes Greenfield or Goodchap Roseneath Lodge, Lee, Kent One thousand. To my cousin James Hume Webster Four hundred pounds. To my friend Agnes Lyon or Charles Corsar, Seaforth, Mrs William Corsar's Brooch with one of my gold Bracelets. To Mr Charles Corsar Twenty five pounds. To Mr William McClure, Senr Writer in Greenock Fifty pounds. To Jemima Grant my faithful Servant the sum of One hundred pounds all my clothes [and?] my Gold Watch and gold chain if she is in my service at my death. To Mrs Agnes Webster or Harvey my Gold Bracelet with my father's miniature in it. I leave no debts. Medical Funeral and servants mourning to be paid as soon as possible.
Let me consider them one by one and speculate how Eliza might have known them.  There is much guesswork here, but it might inspire further research. There is already the framework for a historical novel, perhaps.  A dramatis personae waiting for characterisation.
Mrs Jane Ann Sorley Bartlett.

 

Eliza's stepdaughter, from her husband's previous marriage to Mary Jaffrey, who died in November 1840, only three weeks after her daughter was born.

  There

is nothing in the Censuses of 1851 and 1861 to suggest she continued living in Arbroath and may well have been brought up by a relative elsewhere. And she does not seem to have returned to Arbroath after her father's remarriage.

 

As the will indicates, she subsequently married Joseph Bartlett, a doctor of medicine, deceased at the time of the will, when Jane Ann was living in Notting Hill, London.

 

She gets the house.
Mrs Marion [Stewart] Logan or McClure. A 'dear friend'.

 

Marion Logan was born

 

in Stirling in 1822 to Rev James Logan and Catherine Stewart, her father having been minister of St Ninians's Relief Church since 1803.[17]

 

She moved to Pitt Street in Leith with her parents around 1839 and so was living a short walk away from Eliza for a year or two and they may well have met each other then.

 

With ten years between them, perhaps Eliza was her tutor?

 

If they did meet then, it is possible that Marion's father (at whose church Mary Jaffrey and Alexander Sorley were married – in 1837) could have introduced Eliza to her future husband. In any case, Marion is likely to have attended Eliza's wedding in Edinburgh in 1845.

 

After Marion married in 1851 she went to live with her husband in Greenock.

 

To be a 'dear friend' in the 1880s must mean they kept in touch over many years, but, separated by over a hundred miles, probably didn't see each other often.

 

Marion gets China and Ornaments in the drawing room. Her husband William McClure – identified as a solicitor here – is a separately named beneficiary, with £50 to him.
Mrs Agnes Greenfield or Goodcheap.

 

'My sister'. She is the only sibling mentioned in the will. We do know that of the four siblings who settled in Britain, James died in 1866, Margaret in 1876, and possibly Mary too by the time the will was written.

 

Agnes gets the largest cash portion of all the beneficiaries:

 

£1000.
James Hume Webster.

 

'My cousin'.

 

Actually cousin once removed; in other words, the son of her father's other niece, Elizabeth Steel(e) Montgomery (1810-1889) who moved from Edinburgh to Arbroath after marrying an English teacher at Arbroath Academy, Alexander Webster in 1837. James Hume was born 1840.

 

And Eliza was living with them at Millhead according to the

1841 Census

.  She may well have formed a close attachment to him as a baby.

 

The family moved to Academy Street where, according to the

1851 Census

they had four more children. By 1861 James was working as a solicitor's clerk in Edinburgh and was still there two decades later. James gets £400, an indication perhaps that Eliza remained in touch with him after he went away to pursue a legal career.
Agnes [Johnstone] Lyon or Charles Corsar. 'My friend.'

 

Agnes Lyon was born in Arbroath 1835 and was married in 1860 to Charles Webster Corsar.

 

Corsar & Sons were a successful business in Arbroath.

 

In 1849 they launched mass production of their top quality Reliance sailcloth, importing flax from the Baltic.

  The o

ldest son William H Corsar died 1886, and 'the youngest and sole surviving partner, Charles Webster, inherited an estate "valued at some hundreds of thousands, I know not how many" according to his brother in law, a local preacher retained by the Corsars on a stipend of £50 per annum.

 

Three sisters were to receive £10,000 each and two nephews £4000'.

 

Charles Webster went on to build sailing ships, naming one 'Monkbarns' after the character in Scott's Antiquary. 'By the time Charles Webster died, in 1900, he left a fortune valued by the Arbroath Herald at about a quarter of a million pounds, in flax, yarn, cloth, stores, machinery, mills, factories – and ships. Nine ships in all.'[18]

   

Agnes and Charles lived at Seaforth House, an imposing dwelling on the sea front, only five minutes walk from the Sorleys.

 

Agnes was over 20 years younger than Eliza, though by 1880 the age difference would have been less significant.

 

They may have been fellow church-goers or involved in some common philanthropic endeavour.

 

There is evidently a close family connection.

 

Agnes gets 'William Corsar's brooch' – returning a gift (or legacy) from Charles' youngest brother, who died aged 22 in 1864.

 

Charles himself gets £25, not that he needed it, but a symbolic token of affection.

Jemima Grant

. 'My faithful servant'.

 

She gets £100, clothes and accessories.
Mrs Agnes Webster or Harvey. Not identified as such, but Agnes was the sister of James Hume Webster, so another cousin (once removed). Agnes was born 1847, and I think she is the same person as 'Janet A' (aged 3) who appears in the

1851 Census

for Academy Street. She does not appear in the

1861 Census

when the family had moved to Commerce Street. In David Dobson's Scots in the USA and Canada 1825-1875 we learn that 'Webster, Janet Agnes, daughter of Alexander Webster, the registrar of Arbroath, married William A. Harvey, engineer, Royal Navy, in Halifax, Nova Scotia, on 19 April 1880.'[19]  In the

1891 Census

she is listed as head of household, age 43, 19 Dalhousie Place, 'wife of [head engineer?] with a son aged ten and daughter aged eight and servant.

 

So Agnes is sometimes called 'Janet A' and sometimes 'Janet Agnes'. Agnes gets 'my Gold Bracelet with my father's miniature in it'.

  
V
One other person of interest is Alexander Webster.  According to the record of his daughter's marriage in 1880 he was the Registrar of Births, Marriages and Deaths in Arbroath. But at the time of his own marriage in 1837 he was an English teacher at Arbroath  Academy. According to McBain's Arbroath: Past and Present, Webster 'threw in [his] lot with the Free Church' when it broke away from the Church of Scotland in the Disruption of 1843 and only a storm of protest prevented the Directors from sacking him.[21] 
So before she was married, Eliza was living in the home of a prominent supporter of the Free Church. What would have been her reaction to her fiancé apparently welcoming Henry Clarke Wright deliver a 'Send Back the Money' lecture at his church a few weeks before their wedding in October 1845? Perhaps her disapproval was the reason he back-tracked and did not invite Douglass to speak there the following February.  
But perhaps Webster was one of those in the Free Church who disapproved of its leaders' willingness to extend fellowship to their counterparts in the United States.  After all, one of the two 'overtures' presented to the General Assembly in 1846 calling on the Church leaders to reconsider their position on slavery, came from the Angus and Mearns Synod to which the Arbroath Presbytery belonged.
Did the presence in his household of a daughter or granddaughter of an enslaved mother trigger a family crisis in this small coastal town that reverberated – however faintly – in an abolitionist newspaper in Massachusetts?
---
Notes
[1] Henry Clarke Wright to William Lloyd Garrison, Arbroath, 11 February 1846, Liberator 3 April, 1846.
[2] Daniel Livesay, Children of Uncertain Fortune: Mixed-Race Jamaicans in Britain and the Atlantic Family, 1733–1833 (Chapel Hill: University of North Carolina Press, 2018).
[3] Norma Myers, Reconstructing the Black Past: Blacks in Britain, 1780–1830 (London: Frank Cass, 1996), 29; Kathleen Chater, Untold Histories: Black People in England and Wales During the Period of the British Slave Trade, c.1660–1807 (Manchester: Manchester University Press, 2009), 30.  Their figure matches that of Folarin Shyllon, though, as Chater points out, he did not indicate how he arrived at the figure: F. O. Shyllon, Black People in Britain, 1555–1833 (London: Oxford University Press, 1977), 102.
[4] Livesay, Children of Uncertain Fortune, 186–88, 227–31, 281–91, 323.
[5] Livesay, Children of Uncertain Fortune, 357;  June Evans, 'African / Caribbeans in Scotland: A Socio-Geographical Study', PhD Dissertation, University of Edinburgh, 1995, 77.   Bruce Baillie, History of Dollar (Dollar: Dollar Museum Trust, 1998) calls him Daniel McIntyre (75).
[6] David Alston, Slaves and Highlanders: Silenced Histories of Scotland and the Caribbean (Edinburgh: Edinburgh University Press, 2021), 4–5, 287–89.
[7] Stephen Foster, A Private Empire (Millers Point, NSW: Piers 9, 2011), 163–93. Their father's mother did not consider them worthy of the family name, and so were called Williams, after their father's forename (175, 177).  See also Livesay, Children of Uncertain Fortune, 355–61.
[8] Alston, Slaves and Highlanders, 4.
[9] Alston, Slaves and Highlanders, 280–90.
[10] Lisa Williams, 'African and Caribbean Residents of Edinburgh in the Eighteenth and Nineteenth Centuries', Kalfou, Vol 7 No 1 (2020), 46.
[11] Alston, Slaves and Highlanders, 293–96.
[12] Ian Duffield, 'Identity, Community and the Lived Experience of Black Scots from the Late Eighteenth to the Mid-Nineteenth Centuries', Immigrants and Minorities, Vol 11 No 2 (1992), 105-129.
[13] Mark Duffill and Eric J Graham, 'John Edmonstone – the Black "Bird-Stuffer" of Edinburgh', History Scotland (January/February 2007), 20–22.
[14] [John Parkhill], Sketch of the Life of Peter Burnet, a Negro, Eighth edition (Paisley: J Neilson, 1842).
[15] J. M. M'Bain, Arbroath: Past and Present (Arbroath: Brodie and Salmond, 1887), 147.
[16] Robert Small, History of the Congregations of the United Presbyterian Church, from 1733 to 1900 (Edinburgh: David M. Small, 1904), 103 ; see also George Hay, History of Arbroath to the Present Time (Arbroath, Thomas Buncle, 1876), 249, and Rev William MacKelvie, Annals and Statistics of the United Presbyterian Church (Edinburgh: Oliphant & Company, and Andrew Elliott, 1873), 85-6.

[17] Rev William MacKelvie, Annals and Statistics of the United Presbyterian Church, 344 and 644-45.
[18] My source here is a fascinating blog: https://monkbarns.wordpress.com/tag/arbroath/.
[19] David Dobson, Scots in the USA and Canada, 1825–1875, Part Five (Baltimore: Clearfield, 2007), 146.
[20] M'Bain, Arbroath: Past and Present, 266.