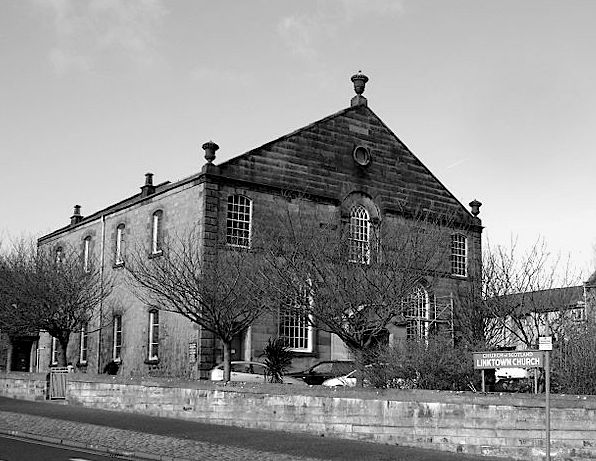 Kirkcaldy had been eagerly anticipating Frederick Douglass for some time. Already on 23 April, the Fife Herald was reporting that 'a movement is going on here at present to get Messrs Douglass and Buffum … to visit Kirkcaldy.'  On 30 April, the same paper noted that a similar 'movement is in progress to secure a visit to Cupar.'
There is no record of Douglass making it to Cupar, but when a visit to Kirkcaldy was finally confirmed (for 19 May), only Buffum showed up, Douglass having been called to London.  However, shortly after his return to Edinburgh, he made his way across the Firth of Forth to address a meeting at Bethelfield Chapel of the United Secession Church on Monday 1 June. The building still stands and, as Linktown Church, continues to serve as a place of worship for the Church of Scotland today.
---
Slavery Excitement. – The denizens of the Lang Toun are not so excitable on many subjects as some others; nevertheless, there are exceptions to all general rules; and such has been the case with them ever since the anti-slavery public meeting held here on the 19th ultimo, in consequence of the exposure then made by Mr Buffum of the horrid system of slavery as practised in America, and also the countenancing of the American Churches by the Free Church party in this country. Our worthy citizens have become highly incensed against that inhuman system, as well as against its pious aiders and abettors, and freely denounce them both; while our very streets and lanes, and our youngsters, have loudly re-echoed the cry, SEND BACK THE MONEY!!!
As a consequence of the excitement referred to above, another public meeting was held in Bethelfield Chapel on the evening of Monday last, at which there were about 1400 persons present, and which was addressed by Messrs Douglas and Buffum.
At half-past seven o'clock, the Rev. James Bayne of the United Secession Church here introduced the speakers with a few remarks as to the object of the meeting; after which, Mr F. Douglas rose amid a general burst of welcome, and addressed the meeting in a long and eloquent speech, in which he vindicated his own and Mr Buffum's motives in coming to this country, which were for the sole purpose of diffusing a true knowledge of the state and condition of the slave population of the American Union. In doing so, he stated a great variety of facts which had come under his experience and observation while he was in slavery, the recital of which caused great sensation among the audience. Mr Douglas also dwelt upon the loose state of religious discipline in the Southern States, and commented, in severe terms, upon the conduct of the Free Church in holding fellowship with the man-stealers of America – thereby countenancing them in their wrong-doing.
The meeting was also addressed by Mr Buffum, and after a second address by Mr Douglas, broke up.
Fife Herald, and Kinross, Strathearn, and Clackmannan Advertiser, 4 June 1846