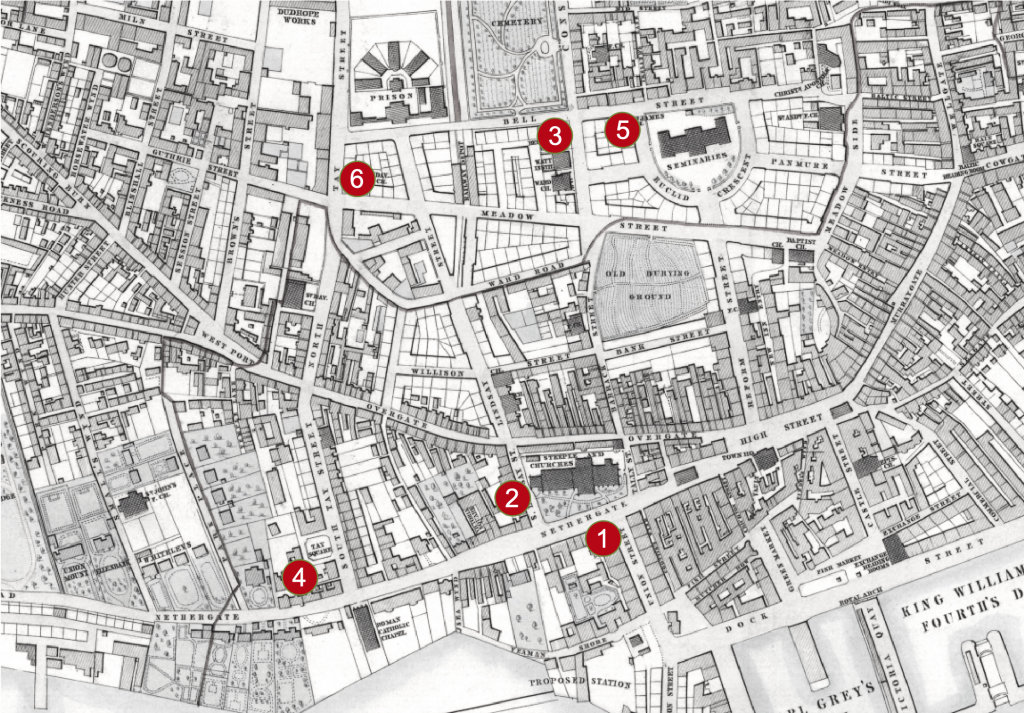 Royal Hotel, 54 Nethergate.
United Secession Church, 'George's Chapel', School Wynd (Rev. George Gilfillan)
United Secession Church, Bell Street (Rev. W. B. Borwick)
United Secession Church, Tay Square (Rev. James R. McGavin)
Relief Church, 'James' Church', Bell Street (Rev. James Reston).
Free Church of Scotland, St David's Church, Ward Road (Rev. George Lewis)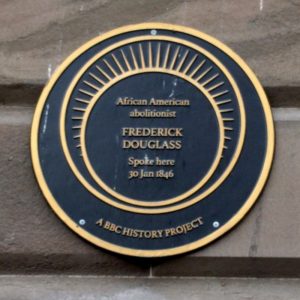 Douglass was welcomed to Dundee in January 1846 by the United Secession minister George Gilfillan who had him speak at his church in School Wynd, despite the objections of some of those on the managing committee, who subsequently resigned. The author of three volumes of Literary Portraits, who counted Carlyle and de Quincey among his friends, Gilfillan later proclaimed Douglass 'the Burns of the African race'. He had embraced the antislavery cause after hearing the English abolitionist George Thompson speak in Glasgow in 1836 and was close to two ministers on the committee of the Glasgow Emancipation Society.
On their way between the chapel and the manse on Paradise Road they would have passed close by the flax-spinning mills that would produce the thread that would be woven into Osnaburg linen and exported to the plantations in the Americas to be worn by slaves.1 Douglass himself recalled that as a child he 'was kept almost naked' except for 'a coarse tow linen shirt, reaching only to my knees.'  Perhaps Gilfillan told Douglass of the recent protests when six young women at Baxter's mill were sentenced to ten days' imprisonment with hard labour for taking the afternoon off after their request for a modest pay rise in line with other operatives was refused.
The Free Church of Scotland was the target of many of Douglass' speeches.  When in Dundee he singled out George Lewis, the minister of St David's Church, for particular attention. Lewis had been a member of the Free Church delegation that sought financial support in the United States and he wrote memorably about the trip in Impressions of America and the American Churches (1845). At a meeting on 10 March, Douglass invited his audience to imagine Lewis calling on his master in Maryland to beg for funds. 'Mr Douglass's mimicry of the Rev. Mr Lewis was in very bad taste,' remarked the Perthshire Advertiser. His audience, though, were thrilled by the impersonation.
In his winter meetings in Dundee, Douglass spoke alongside his companion James Buffum and the controversial peace campaigner Henry Clarke Wright.  In the autumn he returned with George Thompson and William Lloyd Garrison, the editor of the Boston antislavery newspaper, the Liberator.
| | |
| --- | --- |
| | Royal Hotel. On his first visit to Dundee, Douglass wrote to Boston abolitionist Francis Jackson from here. 'I am now in old Scotland – almost every hill, river, mountain and lake of which has been made classic by the heroic deeds of her noble sons.' The hotel (now private accommodation) probably served as his base there on this and subsequent visits. |
| | United Secession Church, School Wynd. Gilfillan's church was packed to overflowing for Douglass' first three lectures here on 27, 28 and 29 January 1846. At an 'Anti-Slavery Soirée' there on 10 March 1846 the chapel again 'was crowded to excess, each passage being literally crammed' and Douglass crafted a theatrical performance that by the end was drowned in cheers.  The site is now occupied by the Overgate Shopping Centre. |
| | United Secession Church, Bell Street.  To meet demand, for his fourth meeting in Dundee, Douglass, Buffum and Wright moved to this larger venue on 30 January, where Douglass delighted the packed hall with a mocking imitation of a pro-slavery sermon. He returned on 28 September with Garrison.  The building still stands, now a music centre, and a plaque on the wall honours Douglass' visit. |
| | United Secession Church, Tay Square. Douglass spoke here with James Buffum on 9 February. They both read extracts from George Lewis' travel book which demonstrated the unchristian character of American slavery that the Free Church had chosen to ignore. It is not known how much of the original building survives as part of what is now the Nethergate Medical Centre. |
| | Relief Church, Bell Street.  Garrison and Thompson were the main speakers here on 23 October 1846, with Douglass merely proposing a poetic vote of thanks to the managers of the chapel, reciting John Greenleaf Whittier's 'Our Countrymen in Chains.'  Later an ironmongers and a shoe warehouse, the site is now occupied by Abertay University. |
| | St David's Church, Ward Road.  The church of George Lewis, who had travelled to the United States as part of a fund-raising delegation in 1844. Douglass challenged Lewis to publicly debate the Free Church's reluctance to break ties with American presbyterians, but he evidently declined the offer, although his travel account in many ways supported the abolitionist arguments.  The site is now occupied by a hostel and public gardens. |
The full text of newspaper reports of Douglass' 1846 speeches in Dundee (and elsewhere in Scotland) will be added to this site during 2019. For an overview, see this list of his speaking engagements.
Note
Some primary sources which attest to the wearing of osnaburg linen clothing by enslaved people in the United States: 'As to the clothing of the slaves on the plantations, they are said to be usually furnished by their owners or masters, every year, each with a coat and trousers, of a coarse woolen or woolen and cotton stuff (mostly made, especially for this purpose, in Providence, R. I.), for Winter, trousers of cotton osnaburghs for Summer, sometimes with a jacket also of the same; two pairs of strong shoes, or one pair of strong boots and one of lighter shoes for harvest; three shirts; one blanket, and one felt that.' (Frederick Law Olmsted, A Journey in the Seabord Slave States, London 1856, p112).  'Of course I was required to strip off my only garment, which was an Osnaburg linen shirt, worn by both sexes of the negro children in the summer' (Jacob Stroyer, My Life in the South, Salem, 1885, p. 12)  'As to their clothing, two good strong suits were given every year – in the summer, white Osnaburgs; in the winter, a kind of jeans, partly cotton and mostly wool, and stout brogans.' (from Chapter V, 'The Negro – How He Was Housed, Fed, Clothed, Physicked, and Worked' in Robert Q Mallard, Plantation Life Before Emancipation, Richmond VA, 1892, p. 32).