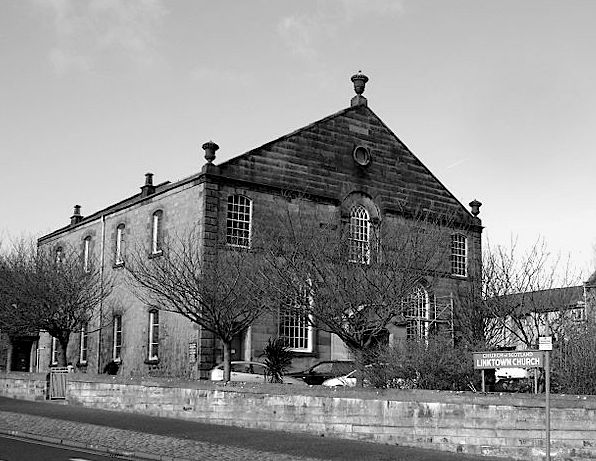 The day after their meeting in Edinburgh on Wednesday 21st, Frederick Douglass and William Lloyd Garrison travelled to Kirkcaldy where (as Garrison recounted) they
held a meeting which was got up in the course of a few hours. Notwithstanding the haste, and that every one present had to pay for admission, we had six or eight hundred present, and a "royal time" we had of it.1
The meeting took place at Bethelfield Chapel of the United Secession Church. The building still stands and, as Linktown Church, continues to serve as a place of worship for the Church of Scotland today.
The only newspaper report that has come to light is from the hostile Free Church-supporting Northern Warder, reproduced below. The Warder (which estimates the attendance at four or five hundred) says the meeting was called by the Kirkcaldy Anti-Slavery Committee, of which it declares it knows nothing.  But it may well have been formed in the wake of Douglass' previous visit to the town on 1 June.  On 24 September the Fife Herald reported:
a number of the ladies of Kirkcaldy, commiserating the unhappy condition of their dark-haired sisters in bondage and subjected to such brutal treatment and revolting degradation, felt themselves called upon to do what lies in their power in the cause of suffering humanity, by aiding and assisting in the furtherance of any scheme that had for its object the extinction of slavery. For this philanthropic purpose, they recently formed themselves into an Anti-Slavery Society, to co-operate with other institutions of the same kind in this country, for the purpose of collecting money or articles of some value to be sent to the American Anti-Slavery Bazaar – the proceeds of which to be applied in the liberating of as many of their fellow-beings in bondage as the funds will overtake. It is to be hoped that they will meet with that encouragement which their laudable object so richly merits.
---
'GREAT ANTI-SLAVERY MEETING.' – Large bills headed thus, were placarded the other day in several of the shop windows, and on other places throughout the town, and the town-crier with his drum also announced the meeting. The meeting took place in Bethelfield Chapel on the evening of Thursday last. The name of George Thompson, Esq., London: W. Lloyd Garrison, Esq., Boston, U.S., and Mr Frederick Douglass, drew together between four and five hundred people into a church which holds about fourteen hundred! George Thompson, however, was not there. The other two were present, and Mr Robertson of Edinburgh with them. In their addresses, they occupied the same ground as when  here formerly, with the addition of an attack upon the Evangelical Alliance. The meeting was called by a body calling itself the 'Kirk[c]aldy Anti-Slavery Committee.' Who the members are, we presume, scarcely any body knows but themselves.
Northern Warder, 29 October 1846
---
Notes
William Lloyd Garrison to Richard Davis Webb, Dundee, 24 October 1846, reprinted in The Letters of William Lloyd Garrison. Volume 3: No Union with Slave-Holders, edited by Walter M. Merrill (Cambridge: Belknap Press of Harvard University Press, 1973), p. 442; see also William Lloyd Garrison to Elizabeth Pease, Perth, 25 October 1846, reprinted in Letters, Vol. 3, p.445.