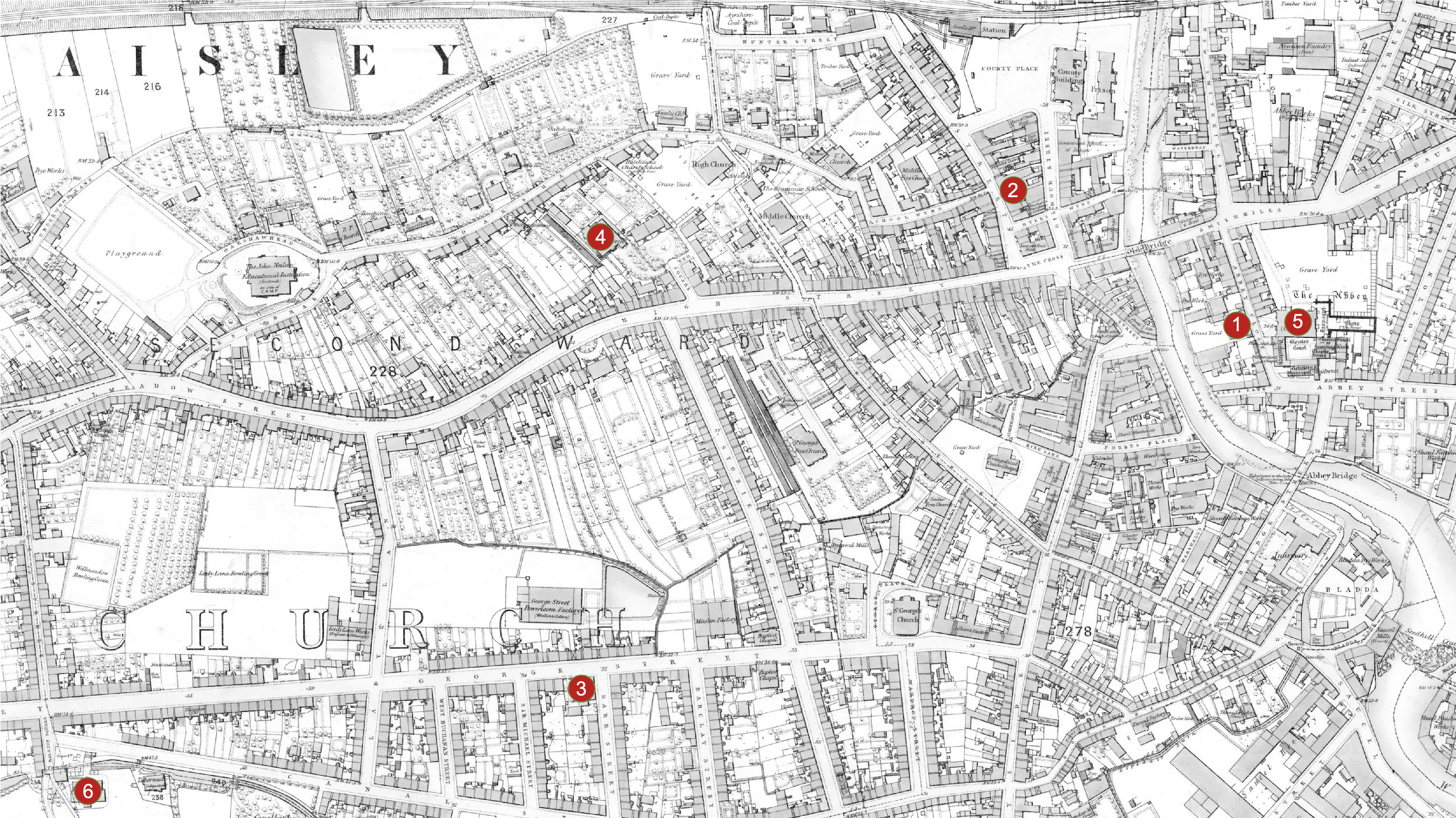 United Secession Church, 16 Abbey Close (Rev. William Nisbet)
Exchange Rooms, Moss Street.
United Secession Church, 21 George Street (Rev. Robert Cairns)
Free Church of Scotland, High Church, Orr Square (Rev. John McNaughtan)
Church of Scotland, Abbey (Rev. Patrick Brewster)
West Relief Church, Canal Street (Rev. James Banks)
Alongside his companion James Buffum, Douglass addressed numerous meetings in Paisley during March and April 1846. For the last meeting on 25 April, they were joined by fellow campaigners Henry Clarke Wright and George Thompson. All four abolitionists then made their base in Edinburgh for the final push of the campaign against the Free Church of Scotland during the lead up to its General Assembly at the end of May.  In September Douglass returned to Paisley with William Lloyd Garrison whom he accompanied on two tours of Scotland during Garrison's three-month visit to Britain in the autumn.
Five years' earlier, a recession had hit the town hard, forcing many mills to close. Across Scotland in 1842, there were mass meetings, strikes and threats of civil disobedience, and the police and army were put on high alert.  The Chartists, with their political demands, were somewhat outflanked by these protests provoked by economic distress, but they were not inactive. In Paisley the moderate Chartist, Patrick Brewster, formed a Society for the Protection of the Destitute Poor, earning him a year-long suspension from his post as a Church of Scotland minister.
Brewster was also an active abolitionist, an honorary member of the Glasgow Emancipation Society, but Douglass would have taken exception to his claim that the British worker was 'as much at the mercy of his Master, as if he was a Negro Slave.'  In his first speech in Paisley Douglass acknowledged 'the evils stalking abroad in this land' but insisted – in what might have been a dig at Brewster – that they 'are nothing like American slavery. I protest against the use of the term slavery being applied in such a manner – it is an awful misnomer.'
Another Paisley clergyman, with whom Douglass had a rather less cordial relationship, was John MacNaughtan of the Free Church, who had dismissed him as an 'ignorant runaway slave who had picked up a few sentences.'  At the West Relief church on 25 April, Douglass gave his response:
The man whose pockets are lined with the gold with which I ought to have been educated, stands up charging me with ignorance and poverty. The man who enjoys his share of the three thousand pounds taken from the slaveholder, and robbed from the slave, stands up to denounce me as being ignorant. Shame on him.
There is no record of Douglass meeting Peter Burnet, an African American who had lived much of his life in the town, after accompanying his employer to Scotland during the Revoutionary War. Known as 'Black Peter', he made a living as a weaver and was a friend of the poet Robert Tannahill. By the time of Douglass' visit, Burnet was in his eighties and in ailing health (he died the following year), but it seems unlikely that they wouldn't have been made aware of each other's presence.
| | |
| --- | --- |
| | United Secession Church, 16 Abbey Close.  Douglass spoke here at least seven times during March and April. On 25 April he tells his audience that they stand alongside campaigners from England, Ireland, Mexico, Canada, and 'even the red Indians', to form 'an anti-slavery wall' surrounding the United States. The graveyard survives, but the church itself is no more, its site now an open green space next to the Town Hall. |
| | Exchange Rooms, Moss Street.  Douglass and Buffum were guests of honour at a soirée here on 17 April. In his speech Douglass insists how effective British public opinion could be in changing American perceptions of slavery. He singles out Charles Dickens for praise, but warns that racist attitudes are not confined to the US. 'Some of the people here were about as bad,' he says. Opened in 1837, it is one of the few non-ecclesiastical buildings to survive from the period. |
| | United Secession Church, 21 George St. Douglass returned to Paisley with Garrison on 23 September. A 'Great Anti-Slavery Meeting' was moved here – then the largest church in the town – from its original venue, when it was discovered that tickets were changing hands at three times their face value. The building no longer exists and the site is now occupied by shops and flats. |
| | Free Church of Scotland, High Church, Orr Square.  The church of the minister John MacNaughtan who insulted Douglass, prompting several sharp responses in speeches in Paisley and elsewhere. The church has since been converted to residential accommodation. |
| | Paisley Abbey, Church of Scotland.  The outspoken Patrick Brewster had a difficult relationship with the Church of Scotland, but was minister at the Abbey when Douglass was in Paisley, and shared a platform with him on several occasions.   It remains a place of worship, a prominent landmark in the town. |
| | West Relief Church, Canal Street. Douglass addressed his seventh meeting in the town here on 25 April, alongside Buffum, Wright and Thompson, shuttling between here and the church in Abbey Close. 'They found when they came to town that the excitement was so great, they would have two large meetings.' The building still stands, but is no longer in use. |
| | Monument to Patrick Brewster, Woodside Cemetery (not on map).  John G Mossman's monument (1863) forms part of the heritage trail in the cemetery, located to the west of the town centre. |
The full text of newspaper reports of Douglass' 1846 speeches in Paisley (and elsewhere in Scotland) will be added to this site during 2019.  For an overview, see this list of his speaking engagements.