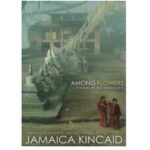 Jamaica Kincaid
Among Flowers: A Walk in the Himalaya
Washington, DC: National Geographic Society, 2005
For those who know Jamaica Kincaid from the opening salvo of A Small Place – a withering put-down of the tourists who descend on her island, blithely oblivious of what it is like to live there – this may come as a big surprise.
Among Flowers is an account of a trek she made in Nepal, for the purpose of collecting seeds she could plant in her garden in Vermont. She and her three companions are guided by sherpas and supported by a team of porters (whose names she can never remember) who do their best to meet their demand for creature comforts and keep them safe from the attentions of 'Maoists' (caricatured as menacing or infantile throughout) who threaten to spoil their vacation.
It is not easy to believe that they were written by the same person. Perhaps she has gotten more conservative as she has gotten older. It's not unheard of. Or perhaps we would find it more reassuring to believe that if the first was sincere, the second must be ironic.
I'm not convinced.
In one village she refers to the way she becomes the object of curious attention. 'One woman did make me understand that she thought I was wearing a mask, that my face was not my real face,' she writes. Maybe this is Kincaid reminding her readers that authors always 'wear a mask', whether it be that of the outraged local or the self-absorbed tourist. In each case, it is as if she is adopting a deliberately exaggerated persona and pushing it as far as it can go.
The first-person protagonist of this story is not unaware of the disparities of power and wealth that separate elite travellers from the people they meet (and rely on). Indeed, her disarming tendency to admit how much she moaned about the facilities or felt let down by the porters brings them into sharper relief than an account by a more 'sensitive' traveller who might have made more effort to appear to 'fit in'.
But even when she consciously reflects on these disparities – for example when she contrasts her own perspective with that of the Nepalese (what for her is treasure may be weeds to them, what is ornament, food, and what is exciting and new, dull and quotidian) – it is the way that these reflections unconsciously rob them of the possibility of finer feeling that is telling rather than the prosaic truth they express.
Above all, that these reflections never prompt searching questions of a moral or political nature – while a Communist rebellion gathers pace around her – may be more eloquent in its silence than an approach that offers simple solutions.
For this reason, I think the 'tourist' identity Kincaid assumes in the Himalayas exposes contradictions and paradoxes much more effectively than the 'local' identity she assumes in Antigua. Whether this is a deliberate strategy is another question, and possibly an irrelevant one.