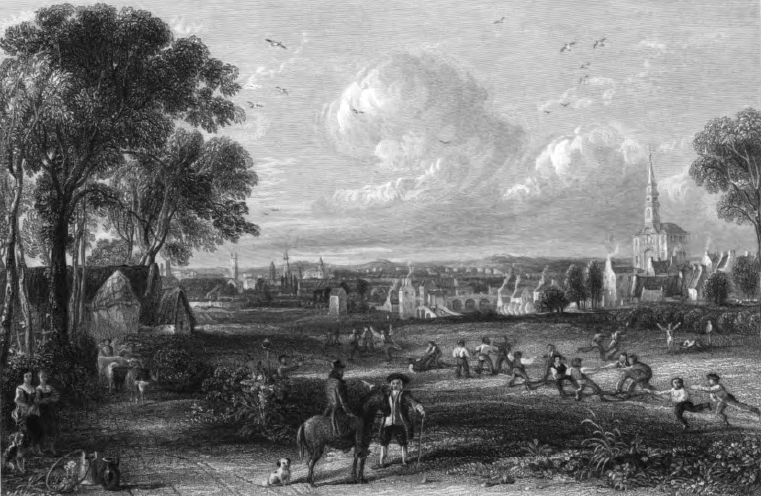 After a series of meetings in the Vale of Leven, Frederick Douglass and James Buffum returned to Kilmarnock on Friday 3 April to address a Soirée held in their honour at Clerk's Lane Chapel.  
In the chair was its minister James Morison, a controversial figure who had been expelled from the Secession Church in 1841 for his theological views. Some of his congregation left and built another church in Princes Street, while Morison and those loyal to him continued to worship at Clerk's Lane Chapel which they acquired, calling themselves the Evangelical Union.1
The only newspaper account of the Soirée appeared in the Ayr Advertiser the following week, on its own admission an abridgement of the much longer report originally submitted by its correspondent.

---
ANTI-SLAVERY SOIREE.– On Friday evening, 3d April, the friends of the Anti-Slavery cause, in Kilmarnock, honoured Messrs Douglas and Buffum, who have been lecturing there, wihth a Soiree, which took place in Clerk's Lane Chapel. The Rev. Mr. Morrison occupied the Chair, and highly interesting addresses were delivered by the two strangers, and likewise by Mr. Thomas Brown. Resolutions, founded on the topics spoken to by the various speakers, were proposed by Mr. Muir, bookseller, and unanimously adopted by the meeting. Emancipation songs were sung, at intervals, and a happy and profitable evening was spent by all. A lengthened report of the above was sent by our correspondent, but want of space obliges us to curtail it.
Ayr Advertiser, 9 April 1846
---
Notes